Now available for purchase HERE
https://www.alphashaving.com/product/alpha-outlaw-double-edged-safety-razor/
Hi All – as part of the testing for Outlaw all stainless safety razor we gave it to an independent third party – Richard Black of Glasgow, Scotland. Richard is a shaving enthusiast who has a fine collection or razors, soaps and all things shaving related. I would say he is a shave addict… like me… Anyway – enough. As part of the prototyping stage for the final production candidate we gave Richard an Outlaw to test drive for a week.

This is a guest blog by Richard Black a big fan of Alpha Shaving Company. Richard asked to be the first customer to try out The Outlaw Razor. Below are his thoughts following his five-day test period.
Over to Richard:
For this review I am extremely excited as I have managed to get my hands on a prototype V3 of the the All stainless steel Outlaw Safety Razor. I have been watching this razor since it's early announcement that it was being made and knew right away this was a razor I wanted to try out and finally here is my chance. I'm going to cover the main aspects that I feel most wet shavers will base their decision on as to buy this razor as I know these are the points that I personally would look at anyway.
I am going to go into quite a few details as I this razor is well designed and I want to point out these details as I know many wet shavers will want to look at them, but if you just want to know overall how good this Razor shaves then jump ahead to the last paragraph when you can get my final thoughts on the razor.
The areas I'll cover are the more common ones like the weight, blade gap, build quality and of course the price. This will make it easier to compare to other razor reviews out there as I have stuck to a similar review structure. This razor has been taken on a 5 day test drive and on each day I have used a different blade to test how the razor blades effect the use of this razor as a daily shave. The 5 blades I have chosen are:-
Feather platinum
Personna Platinum
Tiger Platinum
Gillette Platinum
Gillette Wilkinson sword
Below you'll find how each blade performed on my daily shave and how it left my skin feeling afterwards. I will use the same Pre Shave, Shaving Cream and Post shave balm each day and the one I have chosen is Castle Forbes 1445 for the Cream and Balm and preshave with some Executive Shaving Natural Pre shave oil. I used these alongside my trusted Alpha Titanium Shaving Brush that gets the cream lathered perfect for this type of Test drive with this razor being aimed at a medium aggressive range. I wanted my sensitive skin to have that extra cushion.
Next I want to look at the build quality. Now I only have the prototype but this is a thing of beauty to look at. It's made from 316L marine grade stainless steel so will probably outlast me and when you pick it up you can tell it's completely solid and got a nice weight to it. It measures in at 100mm from top cap to base of the handle. On my scales it comes in at 115g. Now that a nice weight for me. On the handle it's knurling really does add character to the overall design with 5 of these points along the handle. In between these points is a fantastic diamond grip patterned design that I personally love. I tested out the grip by lathering my hand with some shaving soap and then doing a few passes and also just another few general movements you would when your shaving to see how the grip preformed and I must say I was impressed, no slip or slide what so ever as it just stays secure in your hand. The handle is also nice and thick but not too chubby, probably closer to the thickness of the Rex Ambassador and it makes it feel safe and secure in the hand when shaving. There's even the logo on the bottom of the handle which is a nice touch as it's finished with a nice smooth but subtle edge at the base of the handle. The balance point I found was at the second knurling point from the top which gives it a good bit of space between the fingers and the top cap to be able to keep an eye on where your going next with the razor. Some razors the balance point is so high that my big fingers are touching the top cap like my Mühle 106 so there's no room to see the face below the head. There is also a lovely more squared off feel to the top of the handle that screws into the head rather than the standard curved where it narrows at the top. Just a beauty to look at. The top cap on this is really nice and comes with a highly polished finish. It's a standard 2 piece head with the blade going in the middle. The base plate had 2 walls running the width of the plate that have a fair height on them which Is what will lead to the mid-aggressive blade gap. When the head and the top cap are out together everything aligns perfectly leading to in my opinion a very well designed head with a low profile. The screw on the top cap is of good length too allowing for a secure connection between handle and head. There's also 2 long holes underneath on the base plate which are of good size preventing the razor head from getting clogged up while shaving. So just like the handle a very well designed head and when put together one beautiful looking razor that's extremely functional and designed that well, all the little things have been thought off to accommodate us fussy wet shavers.
Day 1 – Feather Platinum

Ok, so day one with the Feather blade was a huge success, on the face I only had to shave with 2 passes and then and extra we half pass on my neck as my hairs grow in about 5 different directions. This razor cut through my coarse 2 day growth with absolutely no issues and no cuts or weepers. The feedback you hear when the blade cuts the through is outstanding and really does deliver a super close shave. As KenSurfs would say the closer the shave the harder the burn, and this was a extremely close shave. There's also no blade overhang at the end of the top cap and there is a low enough profile on the top cap to get right in there under the nose. For me to get BBS even with my Feather it's a 3 and a half pass so this razor saved me that extra pass and I was super impressed with how much the razor takes off in the first pass. The size of the chin bar is great for adjusting your angle, like majority of safety razors I found the 30 degree angle the best but the blade feedback is so much so you'll know if your doing it wrong. It also doesn't clog which is important. So a extremely successful day 1 with the feather blade and probably my closest shave to date.
Day 2 – Personna Platinum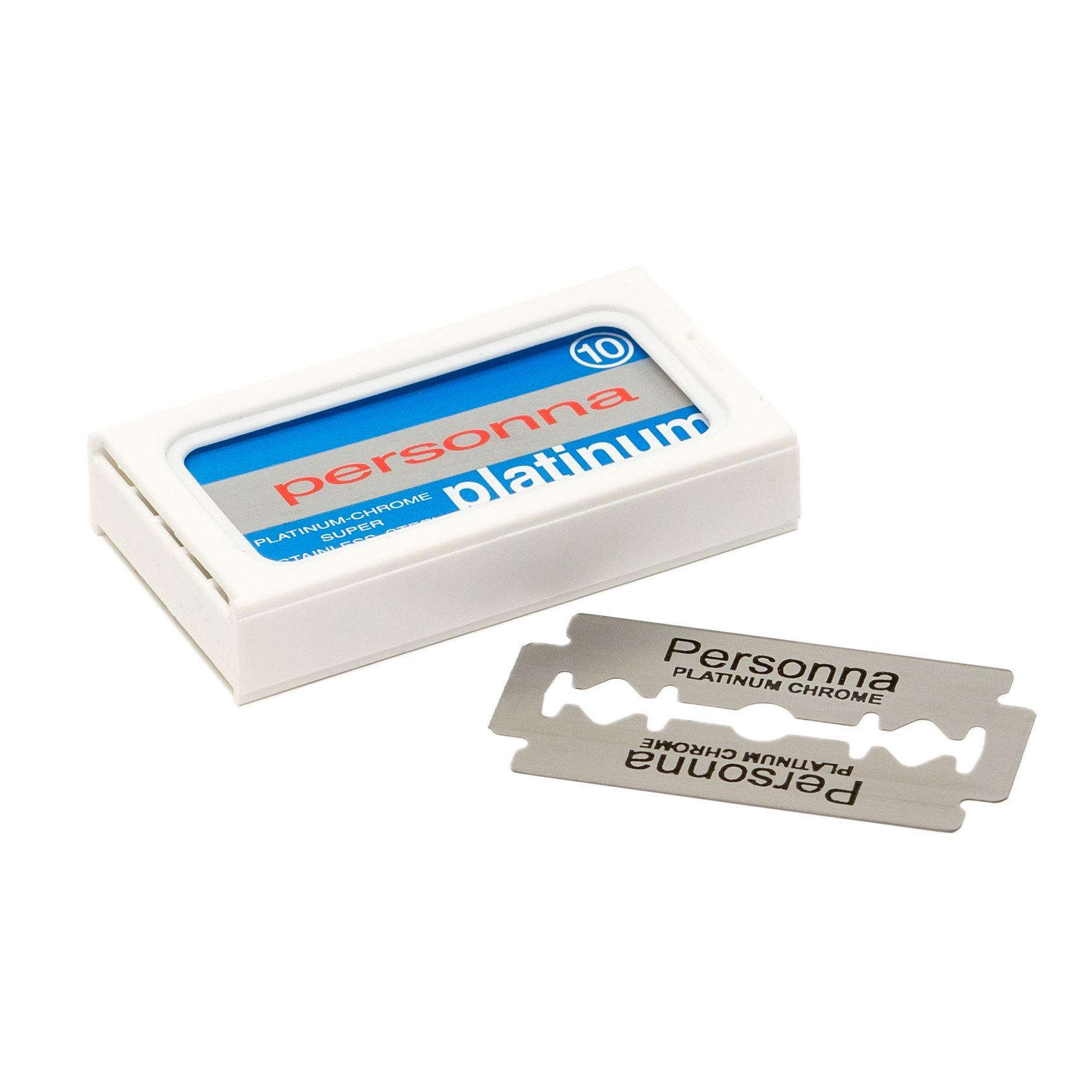 On my second shave I moved on to the persona blades and again they preformed extremely well. The difference in the blade was just enough to have the razor a bit more comfortable in the hand without the fear of any cuts or weepers but still delivering that extremely close shave. 2 passes with a tidy up around the chin and neck areas but saved that third pass.
Day 3 – Gillette Wilkinson Sword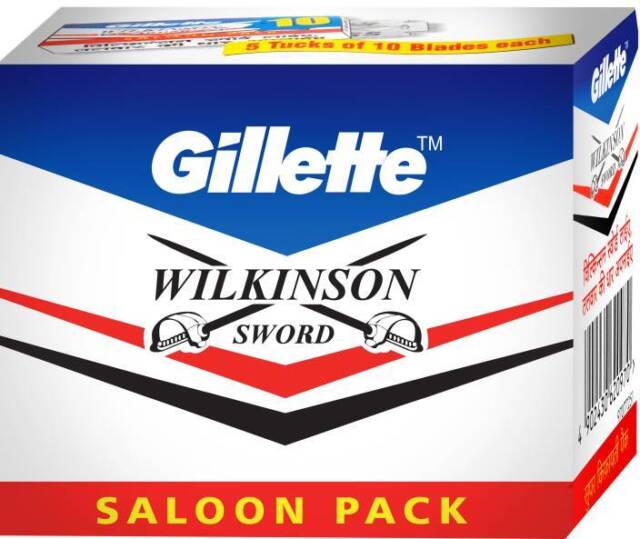 For the 3rd shave, I tried one of my favourites, the Gillette Wilkinson Sword that for my skin delivered the most comfortable shave yet. Now I was in a hurry this morning and time was limited and for mornings like that I normally go to my trusted Oneblade core but I though, just crack on with the Outlaw and I was so please I did. It was a full 3 passes for BBS but I had zero post shave irritation with this blade, not that there was much with the others. Again an outstanding shave and a blade I would recommend if your using this razor as a daily shave and have sensitive skin. I loved the glide and the closeness of this and again the feedback when shaving was top notch. So that's 3 blades so far and this razor has preformed every time with each of them. This razor is definitely living up to my expectations and is just in my opinion outstanding and can compete with the very best.
Day 4 – Tiger Platinum

Now moving on to the Tiger, another favourite of mine, this provided for me a great balance between sharpness and comfort. I felt the cutting power of the feather was very comparable to this blade it terms of sharpness taking the majority away in the first pass leaving very little for the second. It was also very smooth as it cut through my hairs and again left little to no irritation. I preformed the second pass and then just had a little tidy up at the end around the problem areas but a very comfortable and satisfying shave with this blade. A great pairing with the outlaw razor.
Day 5 – Gillette Platinum
My 5th and final blade on this test drive was the Gillette platinum and this was another good shave. It wasn't up there for me with the likes of a feather or Tiger but it done the job in 3 passes only leaving a little irritation but still achieving BBS none the less. I did enjoy using this blade but it just want the same as shaving with a feather blade or my go to Gillette Wilkinson Swords but it did preform and do it's job.

So 5 blades over 5 shaves and what a week of shaving, it was like going back and picking up a DE for the first time and gave a great comfortable shave each day regardless of the blade. If I had to rank the blades in order and I know you will probably want to know and this is only my choices based on my experience and how the shave left be feeling afterwards. Firstly it has to be the Feather, the most aggressive of them all but a wonderful close shave in 2 and a half passes that just delivers that perfect shave. Next would be the Gillette Wilkinson Sword, it's a full 3 passes but the most comfortable of the lot given zero post shave irritation and that was followed closely by the Tiger because just like the feather 2 and a half passes and your done but the feather just gives it that perfect shave. Then in fourth is the Personna, similar again to the feather but not as aggressive but a very satisfying shave. Finally the Gillette Platinum comes fifth, not because it's a bad blade but simply, the others out preformed it.
For me this is an absolutely stunning razor from start to finish and each day I shaved using it was fantastic. The build of the razor is outstanding from the deep knurling in the handle and the diamond pattern grip, the weight is fantastic and the materials of the highest quality. There also going to be I believe another 2 handles for it, ones that's the same as the high polished one I had in design but finished matte and sandblasted and the other I have only seen a render but it look very nice and based on the Executive Shaving Company Braveheart razor handle which of it look anything like the drawings it will be stunning.
The razor delivers that mid-aggressive shave that it was designed to deliver and with the number of blades out there you can have a lot of fun changing things up as you really do get some fantastic feedback from the razor when shaving. This razor would suit daily shavers and occasional shavers a like, maybe a Feather when preparing for work and not shaving during your holiday for the full week or something like the Tiger for the daily shave or even the Gillette Wilkinson Swords for those with sensitive skin. Either way the blade pairing with this razor can make a big difference depending on the desired outcome. I found The first pass take all the work out of the shave leaving only a second pass and my a tidy up of the awkward areas require saving you that vital time when shaving and also cutting down on the post shave irritation.
So from build quality to shave this razor really does deliver, so the fact it's launching at £100 is just an absolute steel for a razor of this quality. For me this razor is better compared to a Rex simply because it gives you that same satisfying feeling in your hand when you pick it up as the others do. These special razors and I found this one really special too. I really have enjoyed taking this razor out on a test drive for a week and I think this might be new daily shaver as I know I will definitely be adding one to my collection very soon. Well as soon as they are in stock !!
Vital Statistics:-

A Few Things You Might Like…